Find Your Voice – Inspire Others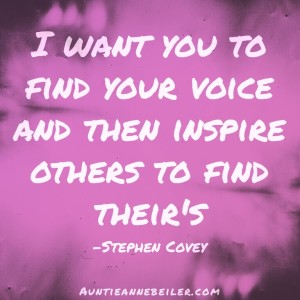 How we use our voice is very telling about how we feel about ourselves. A couple years ago, as I was coming out of a very defeated time in my life, a thought that came to me: "Complaining is an act of defeat".
It's not that I didn't use my voice, but my voice was mostly negative. Critical. Self loathing. I clearly remember holding my book, "Twist of Faith", close to my heart and telling Jonas, "I got my voice back". I wasn't sure what I meant by that but, as time went on, I realized that I had been silenced by my own guilt.
When your voice is taken from you, it may be difficult to know that you were actually silenced. Pay attention to your tone of voice and whether or not you feel heard when you speak.
I found my voice by beginning to tell my story. It was at that time I began encouraging others to tell their story. Begin telling your story in a deliberate way and in a safe place. When you do, you will help others "find their voice".
– Anne Beiler