God's Perfect Plan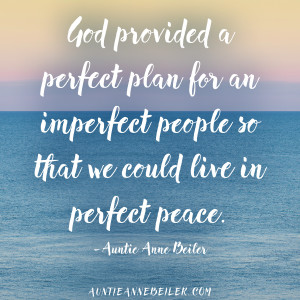 The desire to have a perfect life, perfect family, the perfect job, or just to be a bit more "perfect" is in our DNA. Adam and Eve were perfect people, placed in a perfect environment, and lived a perfect life. It all changed with one choice — to eat from the tree that God said, "Don't touch".
In that one single moment we lost our perfection as the human race. We keep looking for it, strive to be and long for the day when everything will be perfect again. The good news is that God DID put a perfect plan in place by giving us His Son… to live… to die… and to rise again for the whole human race.
That is the perfect plan.
When we accept our imperfection and receive His gift, there is perfect peace as we wait for the time when our bodies and our world will one day be perfect again….
As it was in the beginning…
So it will be in the ending…
Perfect in every way.
– Anne Beiler