Greatest Wound, Greatest Healing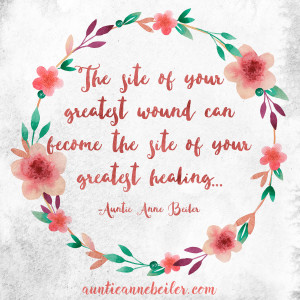 Dr. Richard Dobbins says, "If you haven't experienced deep pain, you have not lived long enough yet, because it happens to all of us".  Sometimes our wounds are too deep for words and, left alone, will fester into a gaping wound so deep it can never be healed.
Unless you reveal your wound…
When we reveal we heal. When we begin to heal we see "beauty for ashes".  Our wound becomes our gift to the world at large and the body of Christ.  It was not the miracles that Jesus did that saved us, but it was His wounds and His suffering.  Our wounds can render us powerless or they can become our greatest source of hope to a broken soul.
– Anne Beiler