The Beginning & Ending of Success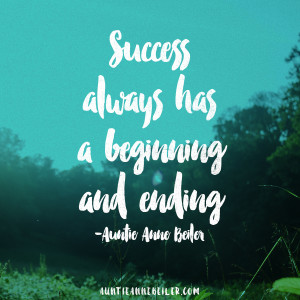 Real success is realized in large part by how we lay the foundation — the beginning.
I didn't know in the beginning of Auntie Anne's that we would experience success in the way we did. We only thought about caring for our employees and our customers.
In the glory days of success, it's easy to forget the humble beginnings of any business or ministry. Between the beginning and the ending is where success is experienced and enjoyed.
If we knew there was an ending to success, we would be more prudent and have an exit strategy that ensured that our purpose was fulfilled.
But, it's not how we start that determines our success, it's how we finish… anyone can start a race, but not all get to the finish line.
– Anne Beiler