Missing The Mark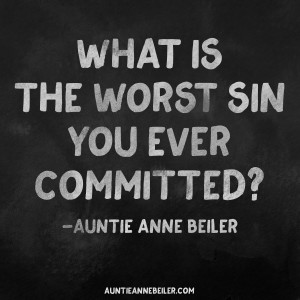 It's easy for us to put sin in a list of the "top ten" worst sins. What I know from life's experiences is that I have sinned many times and when I sin I have this gut wrenching feeling in the pit of my stomach. Whether the sin is big or little makes no difference on how I feel about it.
Sin is "missing the mark".
I have missed the mark so many times and to think about my greatest sin is more about the consequences of the sin than the sin itself. There are some sins that have lifelong consequences which are very difficult to live with, but are forgivable.
I love the line that Jesus said once – "He who is forgiven much, loves much". I love that line because He didn't say he who has committed the biggest sin is forgiven much. Jesus knows we are sinners and from the tiniest to the biggest sin… His blood covers it all!
– Anne Beiler