Happiness & Joy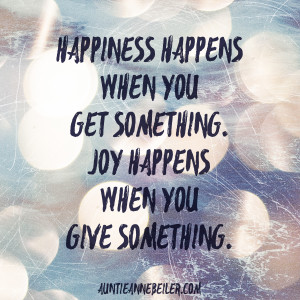 I've heard it all my life – "Money can't buy happiness."  But in our culture of marketing, we hear it every day, suggesting that money CAN buy happiness.  I believe money can buy happiness… if I go to the mall and buy a new pair of shoes, I feel happy… for a moment.
I met a girl in our neighborhood a few years ago that kept driving around our block.  At the time, I was doing my run, and each time she came around the block she would blow her horn and wave.  After the third time around, I waved and she stopped for a moment.  I asked her what the occasion was for her happiness… she said, "I just got this new car and I am SOO happy!".
At that moment I realized… money CAN buy happiness.
But JOY?  It cannot be bought.  Joy happens when I give something away.  There is no greater joy than to be able to give of yourself, your finances, or your talents.  Jesus came to live among us for one reason… to GIVE His life for us, "for the joy that was set before Him".
He is our perfect example.  Joy cannot be taken from you, it can only be given away.
– Anne Beiler