Feeling vs Fact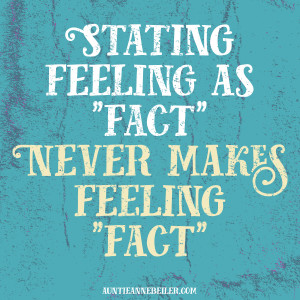 Feelings are what we experience, facts are what we live with. Facts seldom change, but feelings do…
We've heard it said, and may have said it ourselves, many times: "As a matter of fact…" For example, I may FEEL unloved, but the FACT is I am loved!
For over 25 years I felt unloved because of my circumstances and out of that feeling I became unloving. I could not believe the FACT that God loved me with an "everlasting love". Believing the fact that God's love for me is unconditional and eternal has changed me.
Believing fact does not leave us without feelings, but it does keep us balanced when our feelings want to overtake us. The FACT is
YOU are loved by God and His love for you is wrapped up in the FACT that He sent His son Jesus.
The FACT is… be overwhelmed with the FACT and FEEL the joy of this Christmas season.
– Anne Beiler