Jesus – Right for All!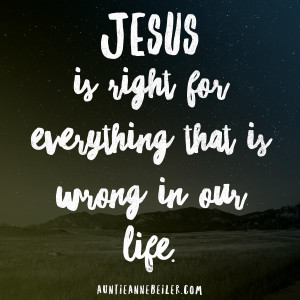 Jesus is right… there is nothing wrong about Jesus. He has never done any wrong, He has never sinned!
I think as mere mortals we have an innate desire to follow someone. Who we choose to follow will influence the life we live. Sometimes we make the wrong choice about who to follow and we end up hurt, angry and confused. We end up with "things that are wrong" in our lives and then life becomes complex and complicated. If we choose to follow someone that is a person of truth 99% of the time, that person will disappoint or let us down at some point.
I love the idea of following Jesus, because He is 100% right, 100% of the time. There have been many things that have been wrong in my life and I am grateful, and can say with confidence, that He is ALWAYS right for whatever may be wrong in my life.
This Christmas, go to the manger in Bethlehem, follow the life of Jesus all the way to the cross, and you will find that He truly is 100% RIGHTeous. He is right for everything that is wrong in your life. You can depend on Him.
– Anne Beiler