Do What You Have To Do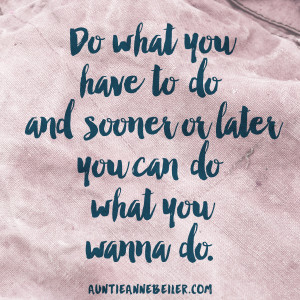 Doing what you have to do creates a habit that, eventually, is as natural as breathing. For example, most times a habit in the very beginning takes effort and discipline. Learning how to play a musical instrument takes discipline. At first you "have to" do it because you want to be a good musician. After much practicing and discipline you can pick up the instrument of your choice and do what you've been wanting to do, like be really good at playing the guitar… because you did what you had to do to enjoy what you wanted to do.
There is very little accomplished without the "have to" first. I disciplined myself and preserved as a child to do the things I HAD to do and the result for me was that I experienced the value of perseverance. I took that discipline with me in everything that I did. The end result for me was that I enjoyed the processes of anything I did because I knew in the end I would be doing what I wanted to do.
If you want to enjoy the view from the mountain top, you have to walk the steep and dangerous path to the top. No one else can do the hard things for you… YOU have to make the climb. When you get to the top of the mountain you will be doing what you wanna do… enjoying a fantastic view.
To get started, do what you don't wanna do… do it over and over and over again and, eventually, you'll find yourself doing what you wanna do. When you do the discipline, you will appreciate how you got where you are.
– Anne Beiler