Always OK In The End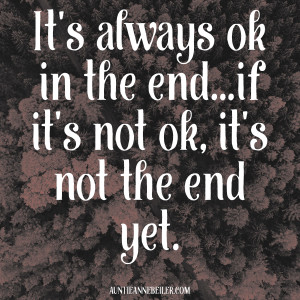 It's the beginning of 2016. Many of us carry things over from the past year that were impossible to leave behind us….
There are lots of things we are not in control of and that's when we can say, "It'll be okay…"
A quote I heard from my mother-in-law many years ago was, "God help me to change the things I can, to accept the things I cannot change, and the wisdom to know the difference."
There is comfort in knowing "it'll work out"… somehow. It's the same line my mom would use whenever things were a bit uncertain – "It'll work out somehow…" Jonas remembers his mother using the same line.
There's comfort in truly believing that "it will be okay". This year, begin saying out loud "it'll be okay" every time things are not 'OK'. You'll find yourself actually believing what you say. A verse that has challenged me all my life is found in Psalms 19:14 – "Let the words of my mouth and the meditation of my heart be acceptable to you Oh Lord, my strength and my redeemer".
Our words will carry us through to an outcome that will be acceptable to us… our attitude will determine how we respond to life.
So, if it's not okay… you're not at the end yet.
– Anne Beiler