Fulfilling Your Visions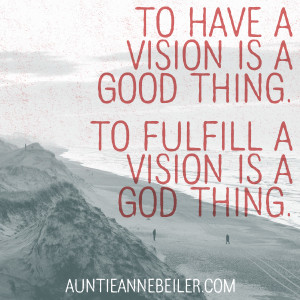 [vizh–uh n] The ability to see; Something you imagine; A picture you see in your mind.
Most or many of us have visions. Could be as simple as seeing yourself married one day, or, could be a bit more complex like owning and building your own business. Maybe you see yourself helping the poor and needy. You may want to build a home for the homeless…
Or sing on American Idol…
Possibly travel the world…
There are many things we can see or imagine.
A vision is something you see and wish for – "a good thing". Fulfilling a vision is seeing it accomplished – "A God thing".
God created all of us with this great gift. Most people live their whole lives seeing visions but never enjoy the fulfillment of them. Don't allow life to pass you by without the satisfaction of the fulfillment of your vision. I've had a few visions in my lifetime… some I thought were impossible and others were more likely to be accomplished.
An example of one of my visions was after Jonas and I were married. We had a vision to have a charismatic church in the Lancaster County area where we lived at the time. We were in our early 20's and both grew up in the Amish and Amish Mennonite congregations. We knew nothing about building churches but, we had a vision. In about 2 years, we were sitting in the church we helped establish and build. The excitement and growth of the church was way beyond anything we had envisioned!!
A God vision most always seems impossible, but always brings about results that go far beyond your own vision. When you have a God vision, and experience the fulfillment of it, you will always look back and say, "Now that was a God thing, how did THAT happen?"
The vision we had in our early 20's is still alive and well. It did not end when we moved out of the area. Freedom Life Church is located in Atglen, PA on a piece of property my dad gave on which to build the church. The church is thriving under the watchful eyes of a great pastor 45 years later. It is God who GIVES visions and God who FULFILLS visions. All he asks for is your imagination and a willing heart.
– Anne Beiler