"We often grieve deeply for what might have been But hope tells us we can be grateful for what is"….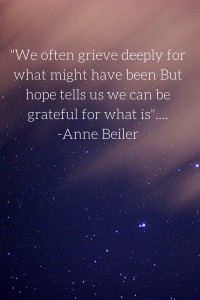 Definition for grieving…"To feel sad or unhappy"
Grief can be like drowning in the ocean…all you can think about is ,Will I survive and if I do survive how will this loss impact my life.
It's impossible to avoid grief in our lifetime.  Grief can take you to unfamiliar places and make you feel like you will live in it forever, the truth is….grief is only a passage. You could feel like you're in a dark tunnel without a light at the other end.
If we understand there is a purpose for grief we can endure the process of grief. Grief is not a sign of weakness or a lack of faith…
I have discovered that grief gives me the reason to go higher and to dig deeper.
If we make grief a passage rather than a permanent place to live we will enjoy the fruit of it. One of the fruits of grief is "compassion".
Out of our own grief we can begin to empathize with others. Grieving may endure for a time but you will be strong because of it.
Wishing for what might have been can keep you frozen in time & "regret" is the fruit of it.
We hear the phrase a lot…
Seize the moment…
Live in the moment…
Enjoy the moment…
If we can "stay in the moment" it is possible to "live in the moment" and we can be grateful for what is.
Too often we're looking back or looking forward and in that place we can not see what is.
In our deepest grief we can have a grateful attitude.
When we can be grateful for what is… the longing for what might have been will blur in time.
-Anne