Transform your pain into your purpose.
The Secret Lies Within is an inside out look at overcoming trauma and how to find freedom in the process.
Transform your pain into your purpose.
The Secret Lies Within is an inside out look at overcoming trauma and how to find freedom in the process.
Take an inside out look at trauma and discover the first step to freedom.
Most of us experience hard situations but keep it to ourselves, letting it become a secret that holds us captive. We live with pain, blame, and shame, unsure of what to do or how to break free. Our secrets grow, causing us to become increasingly silent while we hope and pray for better days, struggling to believe they will ever come.
The Secret Lies Within is an honest, vulnerable, and courageous narrative about nearly losing everything, breaking the silence of secrets, and finding purpose in pain. Auntie Anne Beiler, the founder of the international franchise Auntie Anne's Pretzels, shares her journey through the loss of a child, sexual abuse, and the resulting trauma that haunted her for years, reminding readers they are not alone in their pain. Anne weaves brief stories of other brave individuals throughout her own and presents a picture of hope for those who have experienced trauma. Readers with deep secrets of their own are encouraged to break their silence and understand the power to overcome through confession. Join us in reaching a whole new level of freedom.
"Anne Beiler's courage to reveal heart-wrenching secrets along her journey to becoming one of America's best-known business leaders is utterly captivating. Her book shows readers how to bravely rise up and turn the piercing light of truth upon the web of deception that has entrapped them in a prison of silence. To all who read "The Secret Lies Within," may you discover the keys to the Light and bountiful Godwinks."
SQuire Rushnell, Author, Godwink Book Series
Anyone who HAS EXPERIENCED pain
Pain comes in many different forms and looks like abuse, abandonment, depression, anxiety, sadness, and so many more. If you have ever experienced pain of any kind, both your own and of those around you, this book is for you. It is a reminder that you are not alone, you are not a victim, and you can find freedom in life.
Anyone who is a leader
Do you lead a team, business, church, or home? If you are in a position of influence (hint: we all are), then this book will remind you to be aware of those around you and to understand their stories, pain, and the secrets they are afraid to share but need someone to hear.
Anyone who has a story
Your story is all the experiences you've ever had, good and bad, troubling or triumphant. The life you've lived is important, and your story matters. The Secret Lies Within will encourage you to find freedom from pain and learn about the power that comes from confessing your story. It is a written testimony that demonstrates how to share and overcome any situation you find yourself in.
Advanced praise for The Secret Lies Within
"Secrets. That powerful word pulled me in instantly! Finally, someone who has experienced trauma personally is writing about a meaningful and instructional approach to survivors of sexual abuse and family secrets. Anne's guide for those who have been deeply hurt and affected by sexual trauma is a MUST read. I will recommend it to my clients who are trying to find their path through the darkness of abuse."
"I've known Anne Beiler for many years. She is an intelligent, sensitive, caring person who just loves deeply. Her story of survival is so moving. Her resilience is admirable. I know this story of her life will "change your life". We all live with secrets and Anne's story will certainly help us all to deal with our inner pain. I love this woman....my dear friend. This book is a must read!" 
"In finding the courage to tell the story of her long journey to wholeness, Anne Beiler throws a life-line to others who have been silenced and paralyzed by the shame that follows abuse, especially abuse perpetrated by those who should be the trusted keepers of safe havens. Redemption is not instantaneous, but a process of persistent grasping and holding to the buoy within our reach, the buoy that itself is held by the rope of faith and tied to the strong rock of
God's relentless love for us all. Emily Sutherland writes this story with clarity and deep empathy."
"The Secret Lies Within shows Anne's honesty and bravery, qualities she possesses abundantly. Anne addresses subjects that are as intensely personal and painful as they are redemptive. Her reliance on Jesus lights the way for readers who have experienced trauma as well as those who have walked through trauma with loved ones."
"The Secret Lies Within is as much a guide for those that have experienced trauma as it is a collection of inspiring stories of overcoming. Anne doesn't shy away from diving into the hard issues like abuse, affairs, depression, and death but she has found a way to do that while leaving you inspired to change your own life. Anyone affected by trauma needs to read this!"
"In The Secret Lies Within, Anne beautifully captures the impact of trauma and how to overcome it through confession. Her courage to find freedom and hope will inspire you to break free from your own secrets. This book contains incredible wisdom that is very needed today."
"At 9 years of age, a drunk driver slid across the divide killing my dad and debilitating my mom for life. As The Secret Lies Within effectively unveils,  tragedy can become an unwelcome companion for life without discovering the truth and its active ingredients to heal. Read this book and Anne's transparency and insights will offer you a liberating path from living wounded to becoming a wounded healer."
"Auntie Anne is widely recognized as the successful founder of the world's largest hand-rolled soft pretzel franchise company. Few would guess that behind her success is heartbreaking pain, loss, and abuse. In The Secret Lies Within, Anne shares her story with vulnerability, leading us from pain to healing and from despair to hope. For anyone who has suffered trauma or felt hopelessness, Anne's story reveals a path out of the darkness that offers healing, redemption, and freedom."
"Making yourself vulnerable can be scary. Very scary. But I am convinced that in doing so, that's where real, transformative ministry takes place. This book will be transformative in your life. Anne's transparency shows us we are not the "only one." Her honesty and authenticity are refreshing and healing. As you read this book you hold in your hand, you will find a safe friend."
Ruth Graham, author of In Every Pew Sits A Broken Heart
GIVE TO GET TO GIVE AGAIN PREORDER OFFER
Preorder today and claim your free 2nd autographed copy!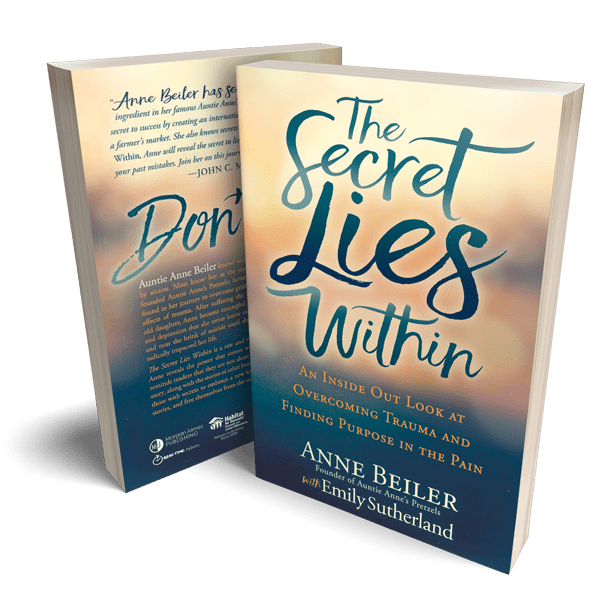 Preorder a paperback copy of The Secret Lies Within between now and September 17, 2019, and receive a free signed copy from Anne before the official September release date!
Then, when your book ships in September, give it away to a friend!
How to claim your free signed paperback copy:
Order a paperback version from your favorite online retailer using the links provided below.
Email a copy of your receipt and mailing address to books@auntieannebeiler.com.
Once we verify your purchase, we will ship you the signed paperback version of The Secret Lies Within. We will begin shipping books in May 2019.
Give away your second copy when it arrives after the official book release in September.
Am I eligible for the free 2nd copy if I don't live in the US?
Unfortunately, at this time, we are not able to accept and validate international purchases. We hope to offer this soon.
Can I buy from any retailer to claim my free copy?
Yes, however, please remember that the free copy is a paperback version. If you choose to preorder a hardcover, the signed copy you receive now will be a paperback version.
Do I qualify for the free paperback copy if I purchase an e-book?
How do I claim my free paperback copy?
Once you've ordered, please send a copy of your digital receipt to books@auntieannebeiler.com. Once you submit your information, we will verify your purchase and begin processing your free copy.
When will I receive my free paperback copy and when will it arrive?
Books will begin shipping May 1st. Once we verify your purchase, we will begin processing your free paperback copy. It takes 24 - 48 hours to verify. Books will be sent via USPS first-class mail. Shipping times will be based on your location.
I have a different question. Who can I ask?
Send us an email at hello@auntieannebeiler.com and a member of our team will assist you.
Press Inquiries & Resources
Please direct all press inquiries to Gentry Lusby at gentry@auntieannebeiler.com.
Get immediate access to Chapter One!
Enter your email below to sign up for Anne's newsletter and receive chapter one of The Secret Lies Within instantly!